Finding and embracing your inner witch will be a journey of self-discovery that all starts with a baby step. Taking that step to get outside of your comfort zone is usually figurative but I firmly believe that October is THE BEST month to for a family vacation or field trip!
The cooler weather, the opportunity to see some REAL fall colors while experiencing another state, and the tangible buzz that the fall season creates is beyond ideal. That must be why October earned the  title: National Go On A Field Trip Month!
Last year, I took the fam on a crystal digging adventure while visiting our neighbors to the north, Arkansas! I loved it so much I created a brief itinerary based on the amazing experience my family and I created and had in the natural state so that you can do the same!
Itinerary: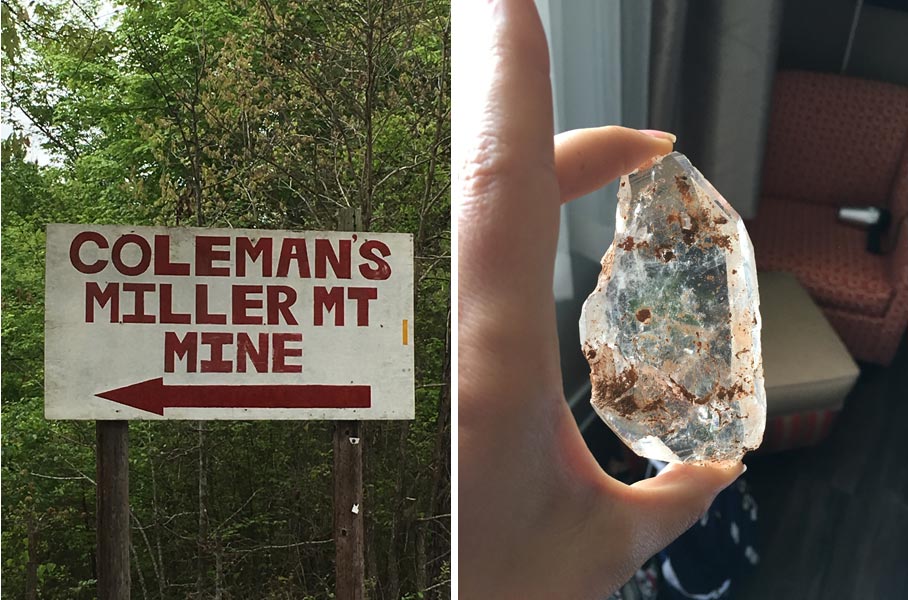 We loved this one and got some great rocks. Whatever you can fit in your truck you can take! There is a one time fee you pay which is very low and I got some amazing landscaping rocks to put in my garden at home!
The main crystals you will find here are milky quartz and clear quartz along with some beautiful landscaping rocks.
Interested in winning a FREE milky quartz from my trip? Enter to win the GIVEAWAY! – See instructions and rules below –
We went to the Dollar General and Walmart to buy the correct clothes – once we saw what everyone else was wearing LOL. So save yourself a trip!
To prepare yourself for playing in the dirt, here is what you'll need: Jeans, shirt, shoes that you don't care about ruining. The mud you dig in is red. You can wash everything once you get home.
This was a larger more commercial dig. They turned up the dirt piles more often with the excavator so we found more clear quartz here which was exciting!
It is a larger facility so the car is not as close and you are more spread out digging but it doesn't take away from the fun at all. Plus if you want any crystals you can buy anything you want inside! The bathrooms/facilities are nice here and they provide a main area to chill out in and learn.
DAY 3: We hit "rock bottom" at Crater of Diamonds State Park!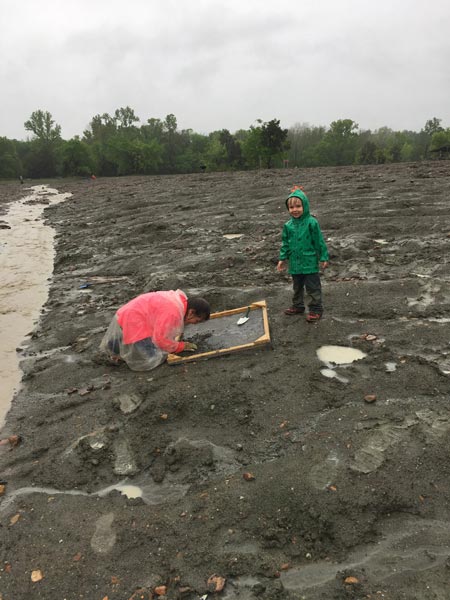 This was a mistake LOL – But we wanted to see if we could find a diamond.
I had no idea what to expect but seriously, don't waste your time! It's fun to read the information about the people that have been lucky enough to find those few tiny diamonds while educating yourself but…
Actually looking for the diamonds? It was a total let down! Especially after you've been digging for (AND FINDING) amazing crystals for two days! So just shorten the trip and skip this one!
Arkansas Travel Tips:
Road Trip!

We did a 5 day trip! But you could easily do 4 days and get in plenty of crystal digging. In total, it was about a 7 hour drive from our home in Louisiana.
It was so much fun to drive all through the farm towns with so many tractors! We packed the car with blankets, pillows and lots of snacks!
Arkansas Eats:

I did not love the food in Arkansas…so I recommend packing a cooler with lots of sandwich fixins, fruit, bars and water. Bc fried food and fast food is plentiful out there. Salads and healthy choices are not.

The Town:

We stayed in Hot Springs Arkansas at the Hot Springs Convention Center(https://www.hotsprings.org/). It was in the center of town and the rooms were nice. The food was decent there and had plenty of breakfast choices.
There is also a giant yard to the side of the hotel where the adults can enjoy happy hour or a meal while the kids run around and burn off energy in the nice cut grass. We actually visited over Easter so the kids were able to have a huge easter egg hunt!
The downtown area had activities for the kids, you can walk the strip, and hot springs for the adults. And there was a great pizza restaurant that we loved!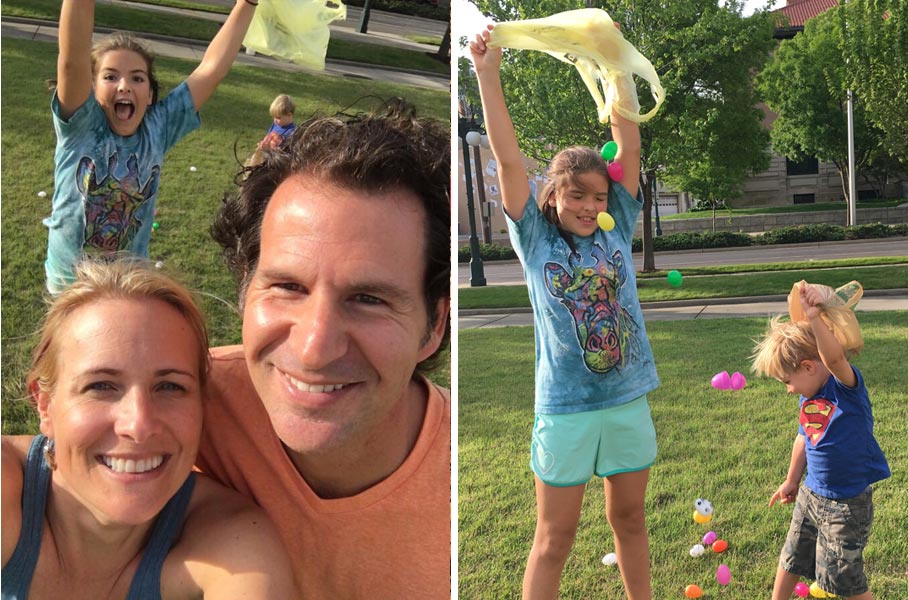 The Season:

I would recommend going any time of year EXCEPT SUMMER only because it is hot and you are digging in the dirt. So if you want some reprieve from the weather – Summer is not your season!

FALL GIFT GIVEAWAY! 
Would you like to win a milky quartz from Arkansas? How about a milky quartz, a Spiritual Toolkit, AND a Soul's Purpose spray?! A $30+ value ALL FOR FREE?! Maybe you know someone who would LOVE them or maybe they're perfect for you – either way, you can't win unless you try!
How to enter: 
Step 1: JOIN The Inner Voice Parliament Facebook Group – Where you'll be privy to daily mantras, meditations, card pulls, healing practices, motivation, crystal grids, etc.
Step 2: VISIT the @Awaken_Change Instagram page and TAG a friend in the comments of this Instagram post who would love these gifts just as much as you!
I'll be taking entries until Wednesday October 31st and will announce the big winner on November 1st so – FLY MY PRETTIES, FLY!